Westar Systems sublimation inks are engineered for use on wide format (42? or wider) water based, ink piezo printers such as Epson, Mimaki, Mutoh and Roland.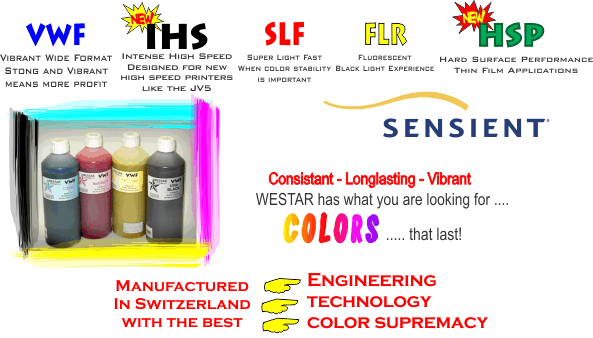 VWF = Vibrant Wide Format Sublimation Ink
VWF inks are a proven sublimation solution. They have demonstrated excellent quality and color stability. Compared to another leading ink VWF showed 31% more color strength.

SLF = Super Light Fast Sublimation Ink
Super Light Fast inks have 200% more light fastness compared to standard inks. SLF is rated as L7 on a blue wool test. SLF has equal fastness characteristics across the color gamut. The fastness will change within color shades without changing color gamut. Which means blue will not fade faster than red, so the color fastness does not alter your gamut.
IHS - Intense High Speed Sublimation Ink
IHS ink is an ink set for enhanced performance on new high speed printers. IHS is specifically designed to maximize production on printers like the JV5 by minimizing the cockling of the paper.
HSP - Hard Surface Performance Sublimation Ink
HSP ink is a newly released ink set for enhanced performance on non-textile substrates. This ink is particularly effective on metal, ceramics and glass.
FLR = Fluorescent Sublimation Ink
Designed for printing on polyester based materials this new ink series is Black Light reactive and has the potential to expand the kind of sublimation products you offer.
If you need better spot color black, this is the solution. The Ultra Black provides a deeper and richer black color. This darker or richer black will enhance the vibrancy of your other colors. This means even more vibrant results for the end user.